You landed on this post because you're looking for ideas on how you can turn your lackluster birthday grand, right?
Well, congratulations! You just landed on the right post and before we'll move up ahead, let me say Happy Birthday to you! Let all the lucky stars in the universe be upon you, today and the days to come!
As we all know, Vikings – the largest buffet restaurant in the Philippines, don't do plain with their offerings, they always want everything grand, including your birthday!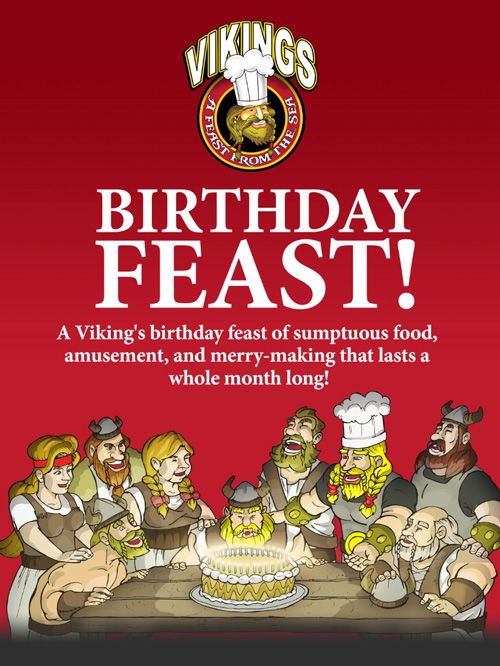 So here are the fine points on how to make your Birthday grand ….
Birthday celebrant of all ages can avail the birthday promo on the day itself and on their birthday month.
Celebrants can eat for free ON THE DAY of their birthday on both lunch and dinner, as long as accompanied by ONE FULL PAYING ADULT.
Celebrants can eat for free for ONE MONTH on both lunch and dinner per day, as long as it is within the month of his/her birthday and accompanied by FOUR FULL PAYING ADULT.
One full paying adult are adult guests who will be paying full rate without any discounts.
Requirements for Celebrants: Celebrant must bring an ORIGINAL and VALID government issued picture I.D. with the birthdate imprinted on it, both local and foreign I.D.s are accepted, for proof (such as S.S.S., N.B.I., Driver's License, Pag-Ibig, P.R.C., Barangay, Unified, Police Clearance I.D. and Passport) In the case that the celebrant doesn't have a government issued picture I.D., he/she may bring his/her birth certificate supported by any picture I.D. (school I.D., parent's I.D., company I.D.).
This promo can't be used in conjunction with our current promotions or discounts.
Gift certificates to avail this promo is not honored.
This promo is available across all branches. This promo is available until December 31, 2014.
For reservations and inquiries, kindly call our hotlines (located on the bottom of our website and the left tab on Facebook) or PM us on Facebook. For more information on other promotions and our current rates, please visit
http://vikings.ph/
*Price and promotions are subject to change without prior notice.
For more of Vikings, they're on …
https://www.facebook.com/VikingsLanang
http://www.twitter.com/vikingsbuffet
http://www.instagram.com/vikingsluxurybuffet